2021 Speakers


President's Keynote

Keynote Speaker Erik Qualman has spoken in over 50 countries and has reached over 30 million people. He is the #1 bestselling author of five books on digital leadership and was voted the 2nd Most Likeable Author in the World behind Harry Potter's J.K. Rowling.
His most requested keynote topics include: Innovation, Leadership, Digital Leadership, Future Trends and Digital Transformation. He has partnered with brands such as Starbucks, Raytheon, Chase, Sony, National Guard, IBM, Airgas, Disney and over 200 Universities. Qualman was formerly a sitting professor at Harvard & MIT's edX labs. NYU Stern signified Qualman is to digital leadership what Deming is to quality and Drucker is to management. Qualman received an honorary doctorate for his groundbreaking work What Happens in Vegas Stays on YouTube. Qualman is also the founder of Equalman Studios which has produced film and animation projects for the likes of Disney, Cartier, CompuCom, Chase, Hearts on Fire, IBM, and many other global brands.
Follow Erik Qualman on Twitter @equalman!
Opening Keynote

Dr. Kate Biberdorf is a scientist, a science entertainer, and a professor at the University of Texas. Through her theatrical and hands-on approach to teaching, Dr. Biberdorf is breaking down the image of the stereotypical scientist, while reaching students who might otherwise be intimidated by science. Students' emotional responses, rather than rote memorization of facts, are key to Biberdorf's dynamic approach to her program, as well as science in general. Her exciting and engaging program leaves audiences with a positive, memorable impression of science—all while diminishing the stigma around women in science. She has appeared on The Today Show, The Kelly Clarkson Show, NBC Nightly News, The Wendy Williams Show, and Late Night with Stephen Colbert.
She is also the author of Kate The Chemist: The Big Book of Experiments, a full-color non-fiction book featuring 25 fun, kid-friendly experiments kids can do in their own kitchens. Readers will learn how to make slime, fake tattoos, edible snot, glitter volcanoes and more—all with the help of step-by-step instructions, ingredients lists, stunning photographs, a messiness factor rating, safety reminders, and a note from Kate about how each fun-tastic experiment works!
She is also the author of the Kate the Chemist fiction series, which features a 10-year-old Kate, along with her friends and little brother Liam, solving problems in her community with the help of science! This series shows kids that science truly is everywhere.
In addition to the fiction series, the soon-to-be-released Dr. Kate Biberdorf's It's Elemental: The Hidden Chemistry In Everything is about the ways we experience chemistry in everyday life.
Dr. Biberdorf lives in Austin, Texas with her husband and two dogs (and one very grumpy cat).
Follow Dr. Kate Biberdorf on Twitter @K8theChemist
Featured Speakers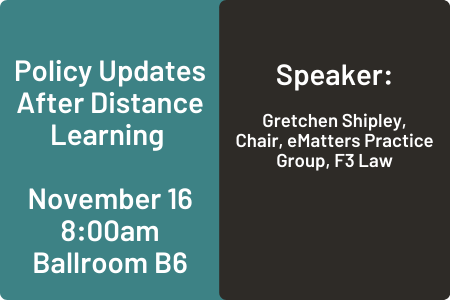 Do your district's Responsible Use of Technology Policies take into account distance learning, online instruction, recording, and sharing of student data? This presentation will provide practical tips to ensure that District policies and procedures take into account up-to-date requirements for a safe and secure educational program.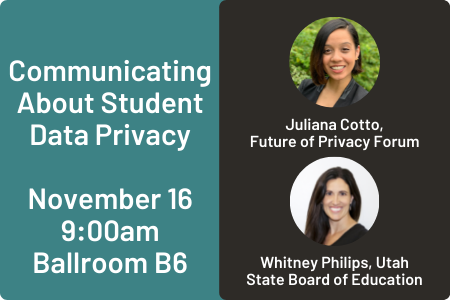 With increased reliance upon data, technology, and online tools and after more than a year of modified learning, communicating with key stakeholders about student data collection, sharing, and use policies are more important now than ever. Building a culture of student privacy is essential for a successful student privacy program, where a clear and comprehensive communications strategy plays a key role. This panel will share effective strategies and tools for communicating about student privacy with parents/caretakers, educators, staff, and students to ultimately foster a culture of privacy in your community.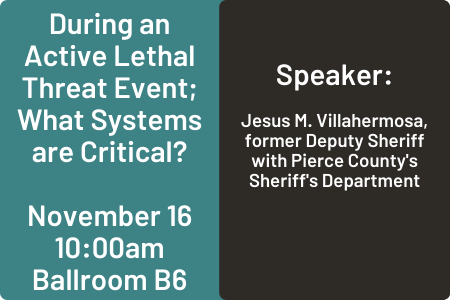 In this event session, Jesus M. Villahermosa, Jr. will dispell decades' worth of myths and misinformation then provide fact based data and real world information to support decisions that he says can save lives. Mr Villahermosa will cover tactics that increase chances for survival during an active shooter incident. You will leave this event session more confident in your ability to improve school safety.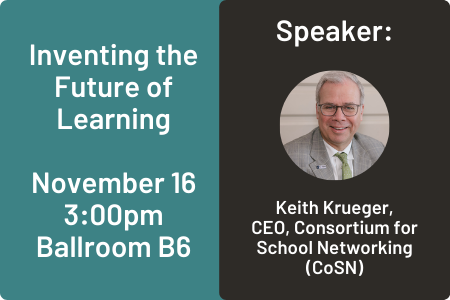 One of the best ways to think about the future of learning is to start by inventing the future you desire. Explore how visionary leaders can design that future by leveraging emerging technologies. Hear what leading global experts from the new 2021 Driving K-12 Innovation initiative feel are the key trends accelerating technology in education, the hurdles, accelerators and tech enablers, and how you can spark a conversation in your district.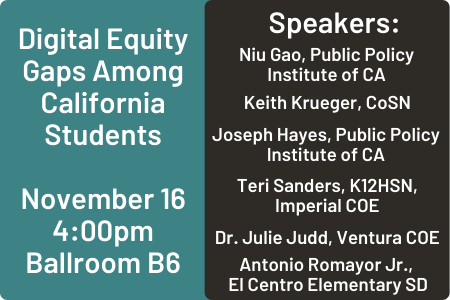 The Public Policy Institute of California (PPIC) is a nonprofit, nonpartisan think tank dedicated to informing and improving public policy in California through independent, objective, nonpartisan research.

After more than a year of distance learning, to what extent has California closed its digital equity gaps? Which students have more access to internet and devices than they did a year ago, and which students do not? Policymakers, researchers, educators, and philanthropies need timely data to understand whether and how digital equity gaps have evolved in the last year; monitoring this progress is also an important prerequisite for closing opportunity gaps for Black, Latino, and low-income students, as well as for English learners.

This project uses state-representative data to examine digital equity gaps for California's students and how they have changed from spring 2020 to spring 2021. We measure the degree to which students have more access to internet/devices than they did a year ago, at the beginning of the pandemic. In particular, we examine how the results differ by demographic and socioeconomic factors (race/ethnicity, household income, and parental education) and by region (San Francisco Bay Area, Los Angeles, and the Inland Empire).

For this, we use the Census Household Pulse Survey (2020-2021), which records internet and device access changes during that period; and the U.S. Department of Education's NAEP 2021 School Survey, which includes data on live instruction students received from their teachers during distance learning. Both surveys include California-representative samples.

In general, we find that internet access improved rapidly from the spring to the fall semesters of 2020, and in many cases stabilized thereafter. We observe significant gains among low-income households and those without a bachelor's degree. Device access also increased between spring and fall, and in many cases the increase remained significant into the spring of 2021, among low-income, Black, Latino, and white households, and across all education levels and regions. However, disparities in even the improved levels of access between these groups persist.

Having characterized the nature of remaining digital equity gaps, we turn our attention to initiatives for solving the problem: what tools are available to policymakers for closing remaining digital equity gaps? Significant amounts of federal and state moneys have recently, or will likely soon, become available for this purpose, and there are a number of innovative ideas to bridge the digital divide. We will highlight a few innovative initiatives (such as Fresno Unified School District's efforts to build its own WiFi network, Imperial County Office of Education's BorderLink program, and Ventura County Office of Education's own network), which may serve as models for other districts, COEs, and municipal governments.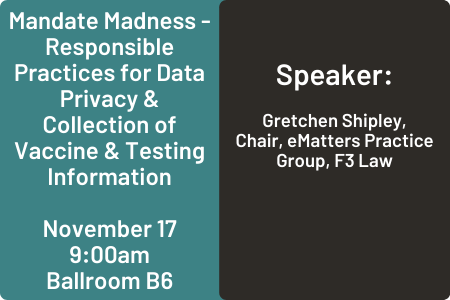 School districts are constantly having to navigate the ever-changing requirements for collecting and tracking COVID testing and vaccination data. This presentation will provide best practices for procedures to ensure that the data is collected and secured in a safe and responsible way.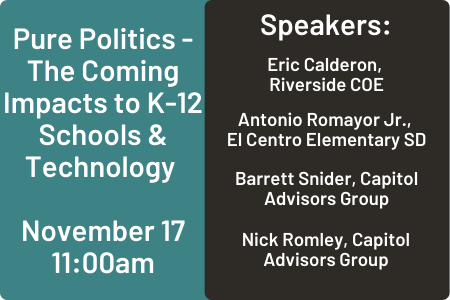 The unanticipated impacts of the COVID-19 crisis and the unprecedented array of community, family and student needs are testing leaders at every level of government including schools. The variables that shape the political landscape are having a big impact on education policy, local control, and the funding provided to public schools. This panel will explore the impact of the new budget and new laws on the future of California investments in K-12 education and technology.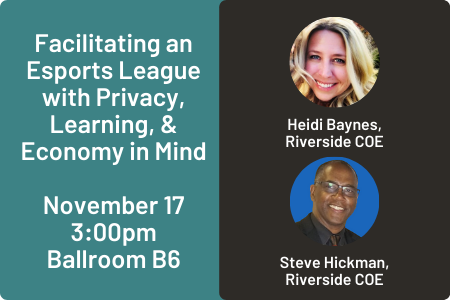 The esports industry offers a wealth of learning and career opportunities for students. Learn how the Riverside County Office of Education created and facilitates the Riverside County Esports League with a focus on student privacy and academics. Riverside County students will join the presentation virtually to participate in a live demo giving CITE attendees a glimpse of the tools and processes used to successfully run an esports tournament.