Back to Events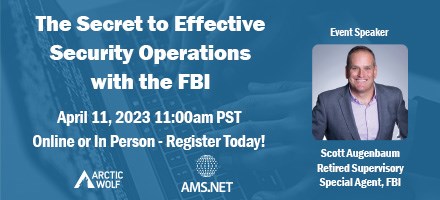 The Secret to Effective Security Operations with the FBI
Tuesday, April 11, 2023
Event Details
Join Arctic Wolf and AMS.NET in this unique opportunity to gain knowledge and guidance from some of the leading security experienced professionals.
Arctic Wolf's Field CTO, Christopher Fielder, will host our conversation with Retired FBI Supervisory Special Agent, Scott Augenbaum, who spent over three decades responding to thousands of Cyber Crime incidents. As one of the first FBI agents to investigate computer crime at the Federal Bureau of Investigation, Scott has seen firsthand the devastating effects that cybercrime has on organizations.
Among sharing some of the secrets to effective security operations, Christopher and Scott will also discuss the following topics together:
- A look at who these cyber criminals are and what motivates them
- Recommendations on what your organization can do to protect yourself and your environment
- Predictions for the future of cyber crime based on Arctic Wolf research
- Real life cyber-crime stories
We will be offering watch party options in all three AMS.NET locations where we will be providing lunch for all attendees in person or you can just log in from your home or office. Space will be limited for this exclusive experience so please register today!