Back to Events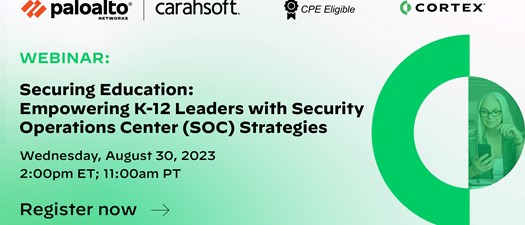 Securing Education: Empowering K-12 Leaders with Security Operations Cen...
Wednesday, August 30, 2023
11:00 AM - 12:00 PM (PDT)
Event Details
In the face of escalating cyber threats targeting K-12 education in the United States, educational leaders play a pivotal role in safeguarding their institutions, students, and staff.
To equip these leaders with the knowledge and tools necessary to combat cyber risks, we present, Securing Education: Empowering K-12 Leaders with Security Operations Center (SOC) Strategies. Led by a seasoned cybersecurity professional with expertise in the K-12 education sector, this webinar will provide leaders with practical insights, case studies, and actionable strategies to establish and maintain robust Security Operations Centers.
Attendees will gain a comprehensive understanding of SOC frameworks, enabling them to make informed decisions, allocate resources effectively, and implement proactive security measures.
Key topics covered in this webinar will include:
- Navigating the K-12 Cybersecurity Landscape: Assessing the specific vulnerabilities and threats faced by K-12 education institutions and tailoring SOC strategies accordingly.
- Threat Monitoring and Incident Response: Implementing robust monitoring mechanisms, incident detection strategies, and effective response protocols to address cybersecurity incidents swiftly and effectively.
Collaboration and Stakeholder Engagement: Building collaborative partnerships with educators, IT personnel, administrators, and external Cyber insurance agencies to foster a culture of cybersecurity and enhance the SOC's effectiveness.
Deadline to register: August 30th at 10AM
For More Information:
Carahsoft
11493 Sunset Hills Road, Suite 100
Reston, VA 20910
(571)662-4917